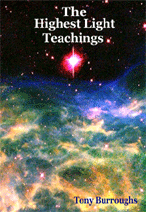 "The Highest Light Teachings"
by Tony Burroughs

This is the companion to The Intenders Handbook.
Full of stories and new information, it takes up where The Intenders Handbook leaves off.
We suggest that you read them both.

Praise for The Highest Light Teachings





The remarkable teachings Tony offers us in this work have the power to transform your life and to heal our world! This information has come to us at exactly the right time and I encourage you to buy this book today!


Richard Ross,
Developer, Emotional Freedom & Healing Modalities
Ashland, Oregon
www.emotionalfreedom.com



Tony Burroughs lights up our hearts with his Highest Light Teachings. Our often cold and dark contemporary world needs the gentle light and ancient wisdom of his spirit to show us the way. This book offers a distinctive view of human purpose, as well as offering comfort, and a call for all of us to live a higher order life at this time in history.


Bonnie Taulere MS, MCC
President, Quality of Life Coaching Services, Inc
Sarasota, Florida
www.qualityoflifecoaching.com



If you're ready to claim your own power and live your life at the highest levels, then The Highest Light Teachings is one book you'll want to read and reread. This simple book contains profound truths that will help free you from your illusions and begin to see yourself as the magnificence you truly are.


Jim Donovan
Author, Reclaim Your Life
Doylestown, Pennsylvania
www.jimdonovan.com


Here is a short excerpt from The Highest Light Teachings
There is no reason, whatsoever, why every human being who walks this Earth couldn't be given everything that he or she needs. Scarcity, in all of its insidious forms, can be tucked neatly away into our past and replaced by abundance beyond measure. Oppression can give way to a life of total freedom such as we have never before experienced. And fear can now be seen for what it truly is - a cry in the dark for attention, a call for the gift of comfort and peace.

For as that loving attention is freely given without reservation, a light so bright will shine forth on everyone and everything. The streets will be filled with people smiling at each other, wanting one and all to experience the joy that comes when we live our lives to the fullest. Everywhere you look there will be peace. We are cleansed of all impurity by the Living Universe as It surrounds us and bathes us in the Highest Light imaginable. Once again we are innocent as young babes, yet divinely empowered, and thrilled at the wonders that lie before us.